It's easy to get caught up in your everyday homeschool curriculum, focused on academics, and then forget the importance of creativity. If you're stuck in a rut and need some new, creative ideas for your homeschool activities, you're in luck! Here are five easy ways to inspire creativity in your kids.
How to Inspire Creativity in Your Kids
Ditch the Tech
Technology is essential in homeschooling, but sometimes it can hinder creativity. Limiting screen time is a surefire way to encourage your children to be more creative. In addition to allowing your kids to think more freely without endless knowledge and entertainment at their fingertips, instilling screen time limits will also encourage your kids to play freely and use their imagination on a more regular basis.
Make a Mess
Creativity is often messy, so encouraging your kids to make a mess is another simple way to help them be more creative. Whether you pull out the finger paints during art time or conduct a messy science experiment, having a little messy fun once in a while is an easy way to encourage creativity. In addition to allowing your kids to use their imagination, allowing your kids to make a mess once in a while can be a freeing way to encourage your kid's creativity.
Read Every Day
Books are an easy way to introduce your kids to new places and interesting people, making it simple for them to think creatively on a regular basis. Reading is a great way to help your kids use their imagination to visualize the characters and events in the stories, on top of helping your kids expand their mindset for future creative play.
Inspire Creativity in your Kids – Allow Mistakes
Giving your kids the chance to make mistakes will help them hone their creative thinking skills and allow them to let their imagination run freely. Temper your expectations on your kids' artwork and craft projects and praise their efforts over perfection. On top of allowing mistakes, it's also important to give your kids creative latitude. Whether they enjoy drawing purple dogs or painting the sky green, allowing
your kids to create with their imagination is a simple way to encourage their creativity.
Give Them Space
Make it easy for your kids to be creative by providing them with a space especially designed for creative play. Stock the space with everything your kids need to be creative, including paint, crayons, markers, paper, scissors, pipe cleaners, beads, and any other craft supplies your kids enjoy using. Then, make sure the space is easily accessible so your kids can use it any time they feel a creative urge.
Childhood passes by so quickly, as we all know. Give your kids a chance now to exercise their creativity in positive ways so that they can grow up with a lifelong love of learning and ability to think creatively. God created us to follow His example and also be creative, so don't be afraid to express that and let your kids have fun with it!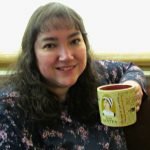 Sara is a homeschooling mom of three girls. She writes at Heart and Soul Homeschooling, sharing ideas for learning that encourage creativity, curiosity, character, and connection. She is an author, speaker, and homeschool consultant. You can find her on Pinterest, Facebook, Twitter, and her Amazon author page.