Welcome to the "ABC's of Values for Children" series!Below, you will find a clickable list of the most important values to teach your children.
"To educate a person in mind and not morals is to educate a menace to society" ~Theodore Roosevelt
"100 doctorates from the finest universities in the world cannot compensate for a lack of values and character.  Values are central
to your children's success and fulfillment in life.  After all, who is so intelligent that he is happy without love?  What person is so brilliant that she has no need for thankfulness?  Yet, even the poor and uneducated will be revered if they are honest.  These values are universally admired.  That is why instilling them in our young children is so important."
~ Blue Manor's "Book of Virtues"
That is why I am bringing you The ABC's of Values for Children.  It is my goal to help you integrate these values into your children's daily lives.  Click a value to see it's definition, verse, and resources to learn and ultimately live.
O – Obedience – Col 3:20
P – Patience
Q – Quick to Forgive
R – Respect
S – Self-Control
U – Useful
V – Vigilance
W – Wisdom – John 13:13-17
X – Excellence
Y – You Work Hard – Phil 2:14-15
Z – Zeal
Resources for Teaching Values
Have any tips on teaching values?  Leave a comment!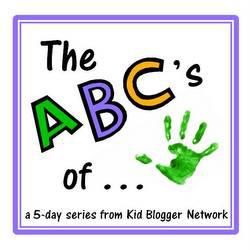 70 bloggers are participating in this awesome Series.  The "Mama Tips and Tricks" category is listed below.  You can browse the entire series here. 
The ABC's of…