We hadn't been camping in years so I was excited when KOA asked me to stay at one of their campgrounds!  This is a sponsored post for Mom It Forward.  The opinions stated are my own.
Have you ever seen The Wilderness Family?  It's a really fun movie that makes roughing it look like an extremely rewarding experience.  And it is!  Maybe that's why millions of people go camping each year.
It's not just about what you do when you camp that makes it exciting.  What you learn sticks with you.  Don't you remember almost every camping trip you went on when you were a child?  I do!
There are so many things to learn while camping, like how to set up the camp site, how to start a fire, how to cook, and the list goes on.
Each family camps differently; there is no right or wrong way.  But, no matter how you camp, doing those things transfers even deeper lessons.
What's Behind the Yellow Sign?
We camped at the KOA in Mountain Home, Idaho.  It was so easy to book my stay online to make sure I got exactly what I wanted.  While there, we got to stay in a one room cabin.  This was perfect for a family like ours with very young children.  We have a 5 month old baby and I wasn't ready for tent camping even though there are great tent areas and even a Tipi.
Our cabin had a full sized bed, bunkbeds and came with wifi, air conditioning, and a heater just in case.  The showers and restrooms were just a few paces away which made it easy to clean up after a full day of exploring.
Values Children Learn From Camping
After arriving at our cabin and getting settled in, character training started right away
Meet and Greet
The playground was right across from our cabin so naturally that was the first thing the kids wanted to do.
Swinging, sliding, spinning to their hearts' content, my children were immediately greeted by our friendly campground neighbors.  The merry-go-round was a hot spot and the children behaved beautifully with their new friends, my daughter volunteering to help push and everyone politely stopping the thing when others wanted to get on.  Sharing, cooperating, and empathizing was their first lesson.
Soon, it was time to say good by to their friends as dinner time snuck up on us.
Exploring Something New
As my husband finished cooking on the grill, I helped the kids up into the tree right outside our cabin.  They weren't too high up, but it was enough to make my son a little weary.  The longer he stayed in the tree however, the more comfortable he became.
His sisters helped him feel more comfortable as they cautioned him if he was getting too close to the edge and reassuring him when a weird looking bug caught him off guard.  Confidence and independence was nurtured in their second lesson.
Let Them Go
After eating, we were relaxing in the swing on the porch of our cabin.  The kids desperately wanted to go back to the playground, but with full bellies, my husband and I weren't too keen.
So we let them go by themselves.
We gave our eldest the reigns and put her in charge of her two younger siblings.  Hand-in-hand they walked to the play ground and beamed with excitement.  We could see them from the front porch of our cabin, but it was far enough away that our children felt like they were on their own.
Audrey did a fantastic job leading her siblings and took real ownership as their caretaker.  It was really rewarding to watch as responsibility was instilled in their final lesson.
There are so many more values and character building opportunities for children when you go on a camping trip.  The next time you go out, make sure you check out KOA and other families' experiences.  With over 485 locations, you're sure to find one close to you.  Download the KOA phone app so you'll always know where a safe, family friendly campsite is.
To read more about all things camping, visit the KOA blog or follow Kampgrounds of America on Facebook.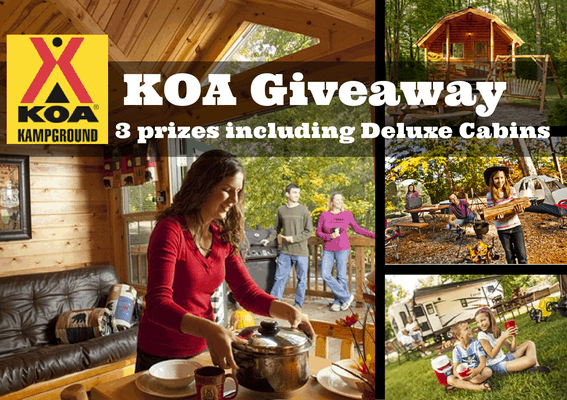 Where is your favorite place to camp?
*I received a complimentary stay at a KOA via Kampgrounds of America.