We have a lot of fancy ornaments stored in the garage.   But I cherish the homemade ones my kids make the most.  I can't wait until they fill the tree on their own, so we can start re-gifting our store bought ones.  We've already made some homemade Christmas ornaments this year, but this Beaded Christmas Tree is my favorite!
16 years ago, I made a similar one for my Aunt Julie.  She still has it!  So, although some kid-made ornaments are fun for just one year, this one is definitely a keeper.
How to Make Beaded Christmas Tree Ornaments
First, gather your supplies.  You'll need some wire, beads that fit on your wire, and some card stock or something that is cone shaped.  Audrey tried 16 gauge wire and seed beads for her first tree and we found some bigger wire to work with larger beads.  We found that if you use the big beads on the smaller wire, your tree won't hold it's shape.
Emma (3) had a harder time with the tiny beads.  Although she could do it, she wasn't as interested.  So, I gave her some pipe cleaners and pony beads instead.
Audrey was diligent and worked hard on her ornament.  She strung all the beads on the wire and I wrapped it around a cone shape to make them into Christmas trees.
Emma's turned out great too, I just wish we would have used longer pipe cleaners.
There are so many different ornaments you could make with this technique.  I think a beaded star or cross would look great too!
So what kind of homemade Christmas ornaments did you make this year?  Need some more ideas?  This year I've joined with 50 other bloggers to bring you hundred's of homemade ornament ideas for kids.  Here are the other fabulous bloggers posting their ornaments today:
To check out all the homemade ornaments just click the image below!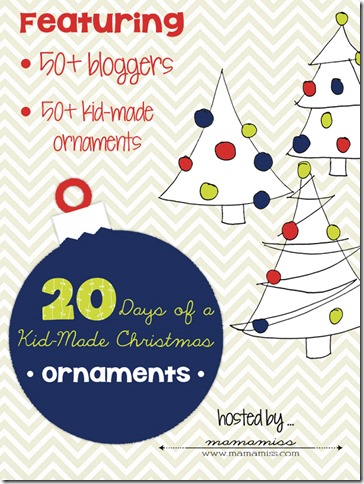 For more Christmas Inspiration, like me on Facebook or follow me on Pinterest.  Thanks for your support!
Have a very Merry Christmas!